Context:
Recently, Bhopal has released its Voluntary Local Review (VLR). With this, Bhopal has become the first city in India to join the expanding global movement on localising the SDGs.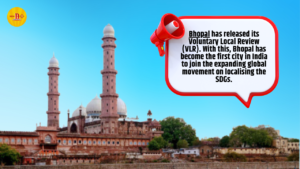 Sustainable Development Goals (SDGs):
The 2030 Sustainable Development Goals, adopted by the United Nations in 2015, provides a comprehensive framework for addressing multidimensional challenges.
The SDGs are a set of 17 goals aiming to end poverty, protect the planet, and ensure prosperity for all.
Significance of Bhopal's initiative:
By releasing its Voluntary Local Review (VLR), Bhopal is demonstrating its commitment to implementing and monitoring these goals.
Localization of the SDGs involves tailoring the global goals to the specific needs and capacities of local communities and regions.
It further recognizes that effective implementation of the SDGs requires engagement and participation at the local level.
Moreover, Bhopal's initiative can serve as a model for other cities in India, inspiring them to localize the SDGs.
It can also contribute to the overall achievement of the 2030 Agenda.
Overall, Bhopal's initiative highlights the importance of local action in driving sustainable development and creating a better future.
Voluntary Local Review (VLR):
By conducting a Voluntary Local Review, Bhopal is likely assessing its progress towards the SDGs, identifying gaps and opportunities, and developing strategies for local implementation.
Accordingly, by mapping 56 developmental projects to the Sustainable Development Goals (SDGs), Bhopal has shown its commitment to aligning its local actions with the global agenda for sustainable development..
Bhopal's VLR highlights the city's focus on the three pillars of 'people,' 'planet,' and 'prosperity' by addressing specific SDGs related to poverty reduction, health and well-being, education, sustainable cities, clean water and sanitation, climate action, and more.
Therefore, this process enables local governments to take ownership of the global goals and align them with their own development plans and policies.
However, the VLR process is not limited to local governments alone. As seen in the example of Canterbury in the United Kingdom, residents and local groups can come together to form coalitions and initiate the VLR process, with local governments serving as facilitators.
VLR significance:
The VLR serves as a tool to showcase local actions and their contribution to equitable and sustainable transformations for the benefit of the people. It helps in building a coalition of partners towards achieving the SDGs.
The VLR process provides cities with flexibility to tell their unique stories within a framework of their choice. It is desirable to align a city's VLR with the state-level action plan and the country's VNR, where available.
However, cities have the freedom to choose their priorities and can articulate their efforts through a quantitative assessment using relevant city-level indicators or a narrative that highlights their vision and initiatives.
Cities may select specific SDGs for a detailed review based on their priorities and logistical comfort. They can also adapt and further localize the national indicators under the relevant SDGs to reflect the realities of the city.
Globally, many cities choose to align their VLRs with the SDGs that are being reviewed by the HLPF. This allows cities to contribute to the global discourse on sustainable development and share their experiences with other stakeholders.
Voluntary National Review (VNR):
Indeed, India has made commendable efforts in adopting, localizing, and working towards the achievement of the Sustainable Development Goals (SDGs). The NITI Aayog, a policy think tank of the Government of India, presented India's second Voluntary National Review (VNR) at the High-Level Political Forum (HLPF) in 2020. This review allows member-states to report on their progress in implementing the SDGs.
To monitor and review the SDGs at the national level, India's Ministry of Statistics and Program Implementation (MoSPI) has published a National Indicator Framework (NIF). The NIF contextualizes the global indicator framework of the United Nations to reflect India's unique development journey. Additionally, at least 23 states and union territories in India have prepared vision documents based on the SDGs, demonstrating their commitment to localizing the goals.
Bhopal's initiatives' achievements:
The VLR's quantitative assessment of city-level indicators under SDG 11 showcases Bhopal's achievements. Bhopal performed well in areas such as solid waste management, public transportation, and opens spaces per capita. However, it also acknowledges the need for further efforts in various areas. Areas include such as adequate shelter, air pollution reduction, city planning capacity, and equitable distribution of open spaces etc.
Way forward:
Overall, the VLR process provides Indian cities with an opportunity to share their unique stories and accomplishments about SDGs. It allows them to demonstrate their local innovations and contributions to SDGs. It can also foster a sense of ownership and collaboration in achieving the SDGs. Hopefully, more Indian cities will follow Bhopal's lead and participate in global movement, contributing to a sustainable and inclusive future.
For More Interesting Current Affairs Click Here!